Sarah Brewerton-Palmer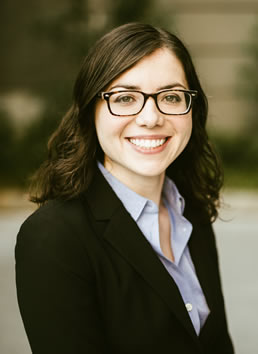 Sarah Brewerton-Palmer is an associate with Caplan Cobb specializing in business litigation, media & communications law, and appellate matters.  Sarah also maintains an active pro bono practice focused on media clients and criminal cases.  Super Lawyers magazine has recognized Sarah as a "Rising Star" in business litigation.
Before joining Caplan Cobb, Sarah served as a law clerk to the Honorable Jill Pryor of the Eleventh Circuit Court of Appeals in Atlanta, Georgia.  Prior to clerking, Sarah practiced with Jenner & Block in Chicago, Illinois.  Sarah has also volunteered her time as a law clerk to the Orleans Public Defender in New Orleans, Louisiana.
"Sarah's legal analysis and negotiation skills have been consistently excellent, and she also showed a great feel for the business and budget issues we faced in the context of the legal situation. . . . Her professional attention to our case assured us that we were very capably represented."
Practice Areas
PRACTICE AREAS
Business Litigation.  Sarah routinely litigates complex commercial matters on behalf of both plaintiffs and defendants.  She has experience with a variety of commercial disputes, including actions regarding breach of contract, business torts, post-employment conduct, business breakups, employee benefits, and commercial leases.
Media and Communications Law. Sarah frequently represents news organizations in their efforts to obtain public records from governmental bodies.  In 2017, she represented the Undisclosed podcast before the Georgia Supreme Court in its suit to obtain recordings of a criminal murder trial.  Sarah has also filed amicus curiae briefs advocating for open records and open government on behalf of some of the most influential non-profit organizations in the country.
In addition to open records issues, Sarah's media practice also focuses on federal communications law.  She has advised multi-national corporations on compliance with federal communications regulations and has represented a class of individuals in their suit to enforce communications regulations against one of the largest telecommunications providers in the country.
Appellate Practice. Sarah has practiced before the United States Supreme Court, the Fourth Circuit Court of Appeals, the Eleventh Circuit Court of Appeals, the Georgia Supreme Court, and the Georgia Court of Appeals.  Her appellate experience has involved issues such as major contract disputes, complex federal regulatory questions, open records laws, and federal criminal statutes.  In her year as a clerk on the Eleventh Circuit, Sarah gained important insight on federal appellate practice and became familiar with a wide range of federal statutory regimes and constitutional law.
Education
EDUCATION
J.D., magna cum laude, The University of Michigan Law School
Online Editor, Michigan Law Review
Order of the Coif
B.A., magna cum laude, The University of Missouri
Activities
PROFESSIONAL & COMMUNITY ACTIVITIES
Board of Directors, Georgia First Amendment Foundation
Planning Committee, Annual Georgia Bar Media & Judiciary Conference
Access to Justice Committee, State Bar of Georgia
Member, Media Law Resource Center
Barrister, Lamar Inn of Court