T. Brandon Waddell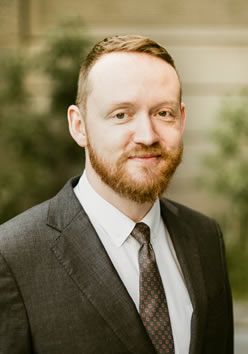 Brandon Waddell is an associate with Caplan Cobb who focuses his practice on business disputes, business counseling, constitutional tort litigation, and appellate advocacy.
Before joining Caplan Cobb, Brandon served as a law clerk to two federal judges—first to the Honorable C. Lynwood Smith, Jr., in the U.S. District Court for the Northern District of Alabama, and then to the Honorable Phyllis Kravitch on the U.S. Court of Appeals for the Eleventh Circuit in Atlanta.
"I get briefed all day by people around the world, [Brandon's briefing] was a model—among the clearest, most thoughtful, and most informative I've ever gotten."
Practice Areas
PRACTICE AREAS
Business Litigation & Counseling. Brandon is skilled at litigating on behalf of plaintiffs and defendants in a variety of business disputes, including joint-venture disputes, business break-ups, contract disputes, commercial leases, and UFTA cases. Brandon also has experience providing counseling and advice on a variety of other legal issues affecting businesses.
Appellate Practice. In his two and a half years clerking for the United States Court of Appeals, Brandon developed a deep understanding of federal civil and criminal appellate practice. Since then, he has adapted his knowledge of federal appellate procedure and strategy to several appeals before Georgia's state appellate courts.  Brandon applies this unique experience as an integral member of Caplan Cobb's appellate practice.
Federal Litigation. As a former federal district and appellate law clerk, Brandon has an intimate understanding of federal practice and procedure, both in the criminal and civil realms. Brandon has also regularly dealt with both individual and class-based constitutional claims, and claims based on employment discrimination statutes, RICO, the False Claims Act, copyright law, the Federal Tort Claims Act, the Telephone Consumer Protection Act, 42 U.S.C. § 1983, the Fair Credit Reporting Act, the Fair Debt Collection Practices Act, habeas corpus, the federal Sentencing Guidelines, and others.
Education
EDUCATION
J.D., magna cum laude, Vanderbilt University Law School
Managing Editor, Vanderbilt Law Review
Order of the Coif
Honors Scholar
Scholastic Excellence Awards in Regulatory State, Health Law & Policy, and Law of Work
Best Brief Award
B.A., magna cum laude, Washington & Lee University
Finalist, Rhodes Scholarship Competition
R. E. Lee Honors Scholarship
Robert C. Byrd Honors Scholarship
M. J. Reis Scholarship
Maxwell P. Wilkinson Scholarship in English
R. E. Lee Research Scholarship
Dabney Stuart Prize (critical writing)
Sidney M. B. Couling Award (critical writing)
Publications
SPEECHES & PUBLICATIONS
A Partially Successful Lawsuit May Still Trigger the "Objective Baselessness" Exception to Noerr: IPtronics Inc. v. Avago Technologies U.S., Inc., E&I Update (American Bar Association, Fall 2016)
Noerr Protects a Competitor's Use of the Citizen Petition Process Unless There is Evidence That the Petition Was Objectively Baseless: Apotex Inc. v. Acorda Therapeutics, Inc., (2d Cir. May 16, 2016), E&I Update (American Bar Association, Summer 2016)
Recent Developments in the Law of Arbitration, presented at ICLE's 2014 Seminar on Contract Litigation (with James Cobb)
State Action, Implied Immunity, and Local Government Antitrust Act:  Wooster Industrial Park, LLC v. City of Wooster, E&I Update (American Bar Association, Winter 2015)
T. Brandon Waddell, Note, Bringing It All Back Home: Establishing a Coherent Constitutional Framework for the Re-Regulation of Homeschooling, 63 Vand. L. Rev. 541 (2010).